I fell in love with ginger kisses while living in New Zealand. But then one fateful day I bothered to read the ingredients and was disappointed to see they contained "
animal fat
". This imprecise description could mean that the fat came from just about any animal. And it almost certainly indicates inhumane and disgusting slaughter house practices. Yuck!!!! So I have been meaning to try making my own for years.
- addictive
My next sweet vegan recipe will be far healthier. Promise. I am thinking maybe a protein pumped version of Anzacs with some nuts and seeds.
I spent a lot of time over a couple of days reading about ginger kisses on line. (Embarrassing really!) So I garnered clues from lots of sites. The recipe that I followed mostly is
here
. And for help with veganifying it (ie replacing the eggs) I decided on a suggestion on
the PETA website
.
Makes about 24 complete kisses.
Ingredients
185gm non-dairy margarine (⅜ of tub)
⅔ cup brown sugar
¼ cup golden syrup
3 tablespoons* (60ml) of water
2 tablespoons (40ml) oil - I used canola
¼ teaspoon salt
2 cups plain flour
1 tablespoon ground ginger
2 teaspoons baking soda
1 teaspoon baking powder
1 teaspoon ground cinnamon
Method
1. Preheat the oven to 180 degrees Celsius.
2. Beat the margarine until soft. Add the next 5 ingredients and beat on high speed until fluffy.
3. Sift together the 4 dry ingredients.
4. The gradually add the dry ingredients to the marg mix and beat on low speed. I sifted the dry ingredients again as I added them.
5. Shape into half walnut sized balls. If you want to roll them into balls you might need to refrigerate the dough for ~20 minutes. And if you want to press down with a fork you may need to dip the fork in flour to stop it from sticking.
6. Bake for ~ 8 minutes. Do not over cook.
7. When cool sandwich together with mock vanilla cream filling.
8. Refrigerate for a couple of hours before serving.
I often don't bother to sift ingredients, which for some recipes is ok. But sometimes
sifting
will make a big difference. I think that the double sifting probably adds to the lightness of these cookies. So I suggest you take the time to sift in this case.
Vanilla Cream Filling
Ingredients:
65gm margarine (⅛ of a tub)
1½ cups icing sugar
2 teaspoons vanilla essence
1 tablespoon soy milk
Method:
1. Beat the butter on high speed until soft.
2. Add the soy milk and vanilla essense and beat until fluffy.
3. Add the icing sugar and whip the hell out of it.
I tried a few different ways of shaping my cookies, including piping them. But the pipped ones were fussy, messy and frankly looked a bit too much like doggy do-do.
Blobs - shaped using two spoons and then a little patting to smooth them a little.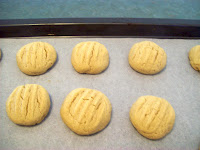 Rolled into balls, flattened and marked with a fork. I liked these best.
The ginger kisses are still delicious before refrigerating. I know this because I ate 2 at this stage - greedy, greedy! But they were a little more like a melting moment (ginger moments?). After a few hours in the fridge they acquire a softer, moister, more cakey texture which is more similar to the traditional kiwi ginger kisses.
*An Australian
tablespoon
is 20ml, as opposed to everywhere else in the world where a tablespoon is 15ml. We like things big in Aus! :)